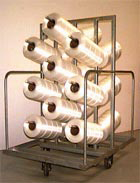 EDSI converts synthetic thermoplastic polymers into fibers and filaments through a melt extrusion process. We produce multi-filament yarn from synthetic resorbable polymers such as polyglycolide (PGA), polylactides (L-PLA, L, R-PLA), polyether ether ketone (PEEK), glycolide/lactide copolymers and other copolymers used in synthetic resorbable sutures. We also process conventional polymers such as polyester, nylon and polyolefins. We bring into practice polymer extrusion and fiber conversion processes tailored for each specific application.
EDSI can further process multifilament yarn and monofilaments after extrusion. This includes twisting, plying and the production of cut staple products where the fibers are crimped and cut. All fibers and fiber products for medical applications are provided in foil pouches that are purged in dry nitrogen and sealed. This provides extended shelf life for these products. Other custom packaging is provided for other applications as needed. Custom polymer development and polymerization can be provided through our association with polymer suppliers.
EDSI was organized in November of 1994 with the mission to provide fiber and textile products to the Aerospace, Medical Research, Medical Device, and High Tech Communities. All of our extrusion equipment is designed, built, and customized to the specifications of each individual product and project.This capability allows us to respond to the polymer, developing the appropriate process and adapting to its specific qualities for the desired product.